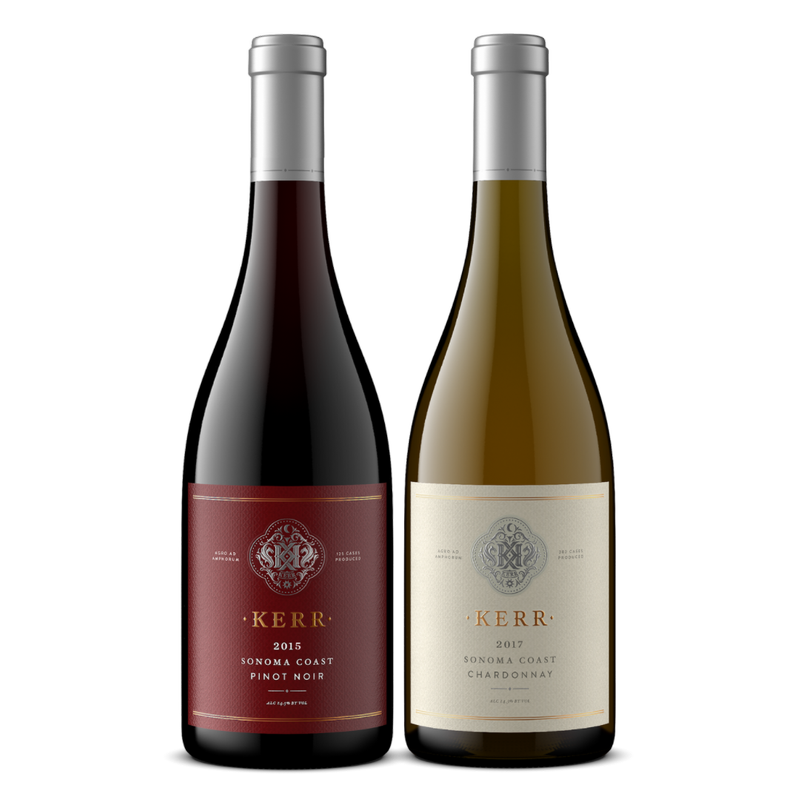 Winemaker Selections
This package was curated by our winemaking team - Winemaker Helen Keplinger and Assistant Winemaker Julie Robertson.
The Wine Selections
One of the fascinating aspects of making wine is knowing that it will be enjoyed in a singular moment in time – whether it's upon release or years later. Our wines are crafted to be enjoyed anywhere on their time trajectory yet with the intention of aging, which means that from harvest to bottling we're focused on ensuring that for each wine, its flavors, acid, tannin, and alcohol are in balance for the long haul. Time and again Kerr wines have proven that if you have the patience, you'll be rewarded; however, we know that sometimes it's too difficult to resist the temptation to open that bottle! With that in mind, we've selected two wines that are showing beautifully at this particular moment in time.
2017 Sonoma Coast Chardonnay - 92 points, Wine Advocate
100% Chardonnay, Rued Vineyard
A kiss of matchstick reduction, Meyer lemon custard, and white fig immediately pop out of the glass, along with notes of honey, pastry flour, and magnolia blossom. The palate has a silky, weighted entry with flavors of baked golden apple, hazelnut, orange blossom, and pear tart leading to an incredibly textural and lengthy finish. This wine is absolutely stunning right now! Best served at cellar temperature (55F), and allowed to open approximately 30 minutes before enjoying. Pair with lemon garlic whole roasted chicken or your favorite aged goat's milk cheese.
2015 Sonoma Coast Pinot Noir - 91 points, Antonio Galloni
100% Pinot Noir, Walala Vineyard
Intensely fresh aromas of violets, boysenberry, and orange oil are complemented by notes of cedar and lavender. This far northern Sonoma Coast vineyard is surrounded by forest, which comes through on the palate with notes of forest floor, river rock, and aromatic herbs paired beautifully with flavors of vibrant cherry, red currant, and cracked peppercorn due to the moderate percentage of whole cluster fermentation. Give this wine some time to open, and you'll be rewarded with additional flavors of rose petal, candied orange peel, clove, and potpourri. Drinking beautifully right now and will continue to develop over the next 5-8 years. Enjoy with duck breast and all the mushrooms you can get your hands on!